Certified Hereford Beef at a Glance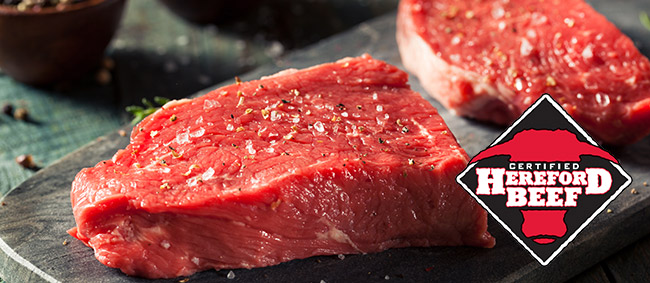 Always USDA Certified. When the word "Certified" appears in the brand name, it means that the specifications such as breed or marbling scores are monitored and verified by the Agricultural Marketing Service (AMS) or the Food Safety and Inspection Service (FSIS). This certification helps ensure product consistency.
Always USDA Graded. ALL Certified Hereford Beef is always graded USDA select or choice. Our superior genetic traits allow our Classic Program which is USDA Select and Choice grade to outperform the competitions best, hands down, time and time again.
"Natural". Most fresh beef is natural. The USDA defines natural beef as "minimally processed containing no additives," which means no artificial flavors, colors or preservatives. This definition applies to all meat that does not have an ingredient label (a label is added if the product includes a marinade or solution). So, if there's no ingredient label, it is natural.
Top Quality
100% product of USA. Certified Hereford Beef is a natural, conveniently grown branded-beef product owned by 5,000 ranchers of the American Hereford Association, the keeper of purebred Hereford genetics. This means our cattle are born, raised and processed in the United States of America.
Scientifically proven to eat better. Per the Colorado State University peer reviewed study and other supporting industry studies. Certified Hereford Beef is scientifically proven to deliver superior taste, tenderness and juiciness time after time.
Originated in Herefordshire, England. Hereford cattle are among the "British Breeds" of cattle known for Superior meat quality. The breed, originating in the 1700's was imported to the United States in 1817 and is currently the most popular breed worldwide.